(814) 266-2236
Swimming Pools ● Spas
Service ● Chemicals
Chemicals
Make Lehmann Pools & Spas your Pool Chemical Headquarters!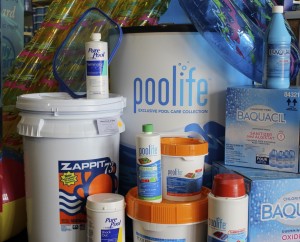 Professional Grade Pool Chemicals!
Whether you want Baquacil™, Poolife™, Zappit (Super Zappit®73%), or any of our other fine brands, Lehmann Pools & Spas carries nothing but full-strength, professional-grade pool chemicals. You cannot get dealer-grade products in your local big-box.  And, try asking for help at the mega-mart!
Our sanitizers are all EPA registered – the real deal. Combine our products with testing, friendly, knowledgeable advice and you won't find any easier or more effective care for your pool – anywhere – at any price. For More Information Call: 814-266-2236
Water Testing
Friendly, knowledgeable advice is combined with the most advanced water testing available to make safe swimming easy!  We have salt water testing; we check for metals, phosphates, nitrates; and give complimentary computerized results with precise prescriptions – all to make sure your water is properly balanced and effectively sanitized. No matter what sanitizing system you use, testing at our lab in the Bel Air Plaza on Scalp Avenue is fast and easy. And, it's complimentary to our customers.
For More Information Call: 814-266-2236
Automated Controllers & Dispensers
Chlorine & Bromine Feeders: CalHypo and TriChlor Dispensers, Liquid Chlorine & Bromine Feeders
Balance Feed Pumps: Stenner, Blue-White & LMI
Controllers: CAT, Goldline® & Chemtrol®
For More Information Call: 814-266-2236
Commercial Testing, Certification & Consultation
Service Plans
Safety Audits
Water Testing
Compliance Testing
Testing Documentation
Chemicals Solutions
Automated Systems
ADA & Safety Equipment
Machinery & Equipment
VGB-Compliant Systems
Maintenance – Service – Repairs
Service - Repair - Contract Maintenance