Scalp Avenue – Richland Township – Bel Air Plaza
Whether you are looking for a new pool or hot tub this spring, you'll love our convenient location.  Nothing beats our easy access off Scalp Avenue in Richland Township.  You'll find our clean and bright store inviting, with plenty of parking, and knowledgeable, friendly people – all there to provide you the best value.  Whether you are coming in to look around, make a purchase, or get support after the sale – like complimentary water testing – our easy-to-access location is just one more thing that make Lehmann Pools & Spas your best value.
Limited time only!  Chemical Start-Up Kit or $100 accessory credit!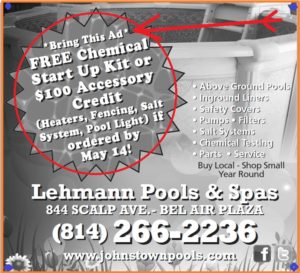 Swimming Pool – Hot Tub – Pool – Spa – Swimming Pool – Hot Tub – Pool – Spa – Swimming Pool – Hot Tub – Pool – Spa – Swimming Pool – Hot Tub – Pool – Spa – Swimming Pool – Hot Tub – Pool – Spa