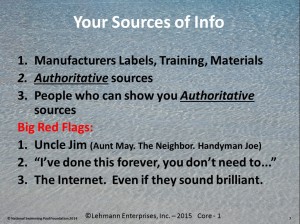 At Lehmann Pools & Spas, our #1 commitment is to providing your family with a clean, safe, and fun aquatic experience.  We think our knowledge base is key to making a safe experience for you and yours.
Have a problem with your pool?  How about the questions you have for how to maintain it?  Don't understand why you've got to use a certain chemical?  Heard there's an easy way?  "My <friend/buddy/neighbor/cousin> just does this and <his/her> water's perfect."
There's a ton of information out there for how to manage your pool – so how to decide what's right?
At Lehmann Pools & Spas, we get our information from authoritative sources.  Then, we train our staff using that information.
We use materials like the National Swimming Pool Foundation's Pool Operator (CPO®) program.
We follow PA state guidelines, using Penn State published manuals for pool operators.
We use information provided by equipment manufacturers.
And, we get information from places like the CDC or APSP, as well as many other authoritative sources.
And, our principal chemical manufacturers are all leading researchers and suppliers of biocides for all types of applications like farming, water treatment, and hospitals/healthcare so we have the latest in quality knowledge to provide you.
That's why we should be your #1 source for accurate information on how to manage your pool or spa.  And, should you have a problem, we have the best methods to clean up your water.