(814) 266-2236
Swimming Pools ● Spas
Service ● Chemicals
Winter Sale – Winter Sale – Winter Sale
It's Reeeee-diculous!
Who thinks about their Swimming Pool in Winter?!  You should – it's our Reeeee-diculous Sale – in Winter!
Save 10 – 30% on all kinds of Hayward Pool equipment:
Energy-saving Pumps
Filters – for crystal-clear water the easy way
Heaters – energy-efficiency and warm water
Heat Pumps – the lowest cost-to-use heat to extend your pool season
Dozens of components and parts
We are year round!  But this Sale isn't – ends February 19th!  Save Big at our Winter Sale – It's Reeeee-diculous!
814-266-2236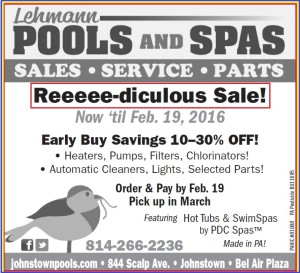 Trending now on Twitter – #MondayMotivation & #ChristmasWeek
For us – our Y-E-S Event continues – limited time – $500 off any PDC Spas LX model!
Quality Made in PA Hot Tubs – only at Lehmann Pools & Spas of Johnstown
This week – Hours:
Monday – Thursday (XMas Eve)  10-6
Closed Christmas Day
Saturday  10-2
Maintenance – Service – Repairs
Service - Repair - Contract Maintenance