(814) 266-2236
Swimming Pools ● Spas ● Chemicals
How Do You Support American Workers?
I start at home – I support Pennsylvania Workers. We start with the hot tubs we carry – ours are the only spas made in PA. In fact, they're one of few models actually made in the US. If you want to support America, support companies that buy American. Support companies that make stuff in America.
Our supplier's factory employs real people. Want to see it? You can take a tour – call me and I'll set it up. Yep, robots can do quite a lot, and one set of high-precision functions are performed by one at our factory, but primarily this factory uses real people – Pennsylvania workers.
And, workers buy stuff. Your money does more. They spend, save, and invest in their own communities. They buy cars, groceries, baseball tickets, pay for college or trade school. They're multiplying the dollars you spent with us, that we spent with their employer, that their employer pays them.
And, what about the American ideal of doing the right thing; fairness, decency, honesty? In another word – transparency. Buy from an American company like our spa manufacturer and there a pretty good assurance of transparency. Their money flows through American banks. It goes to other private sector-owned suppliers directly, through supplier contracts and negotiated pricing. While our system isn't perfect – try finding transparency elsewhere in the world. And, don't forget risk.
There are many world economies exposed to significant risk. If you use transparency as a means to judge risk, your local economy is the most transparent one you'll find. Here in America, transparency ensures the greatest long-term value for your dollar. Send your money overseas and there's a real probability the money you spent there will be worth less in the future. The dollar you spent there yesterday is worth less today.
So – who did you help?
I spent in Pennsylvania. Supporting our workers. I helped our economy. Maybe you can join me.  #ISupportPAWorkers #ISupportAmerica
Lehmann Pools & Spas says you don't have to close just because it's Labor Day!  You can keep swimming – even into October!  Do you have a pool heater?  How about an ultra-efficient heat pump?
Upgrade your pool now and get another month of use this year.  Then, next year open up to 2 months prior to Memorial Day!  That's 3 more months of use from your investment!
We have models that are more efficient – and cost less – than you think.
Lehmann Pools & Spas -open year round – closed Labor Day.
844 Scalp Ave – Johnstown – Pennsylvania – Laurel Highlands – 15904 – 814-266-2236.  Email: info@johnstownpools.com.
Lehmann Pools & Spas announces NSPF® CPO® training October 12-13, 2015 in Johnstown, PA.
October 13, 2015 session 8 AM – 3 PM will count as PA Pesticide Applicator Recertification.  Earn 6 Core Credits, 4 Category 24-Swimming Pools Credits.
Classes will start promptly at 8 AM – pre-registration is required.
Location – Holiday Inn, Downtown Johnstown, 250 Market Street, 15901.  814-266-2236 to register.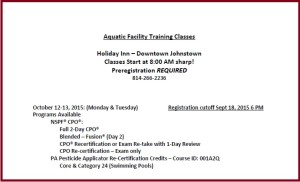 The kids are off to school.  It just 2 of you – with time to relax.  What better way than this spa with real hydrotherapy and the strongest shell in the industry.  It's the Cabo LX!
The 2-tone cabinet will accentuate your living space.  A quality spa for the discerning household.  Built in PA and supported locally.
You deserve the best!  Get it with PDC Spas – whether you choose this one or any of the other of PDC Spas 3 quality lines.
Best of all?  You can have this one by Labor Day!  Financing available.  814-266-2236.
Lehmann Pools & Spas features hot tubs by PDC Spas.  PDC Spas is the only spa, hot tub, and whirlpool bath manufacturer whose factory is in Pennsylvania.  More info here
At Lehmann Pools & Spas you'll find full warranty support, along with friendly helpful folks who can make your spa ownership easy:
Complimentary water testing
Year Round Support
Easy-to-use chemical systems
Large parts department
Open year round.  Closed Labor Day.  814-266-2236
Lehmann Pools & Spas appreciates the "can-do" attitude of many of our customers.  We've got the specialized tools and products to help you!
Going away for awhile?  Need to keep chlorine in your pool?  Poolife® BriteStix™!

Dissolves slowly – extended release
Clarifier, algaecide, metal controller, and borate all-in-one

Need plumbing parts?  Got 'em!

Bins and bins of them
Pipe, adapters, bushings, unions – you name it

Electrical?

Motor bearings
Fuses
Heater elements
Lehmann Pools & Spas – Year Round Support – 814-266-2236
Closed Labor Day
Lehmann Pools & Spas is all about friendly & helpful service.  Trained & knowledgeable staff are ready to help you because:
Summer Is Still Here!
Hot-Hot-Hot weather for quite a while yet!
You and your family are going to want to cool down
We'll help you keep your pool safe and your pool water clear and sanitary.
poolife® – the only full-line dealer in the area
Zappit® – we still have stock